Jayne & Nellie:
I have a four and a half year old dog who finds it hard to focus at times. She's very clever and always wants to be doing something; I already do agility with her and her basic training and our relationship is good. On occasion she goes through a phase where she's much more interested in the environment than me. I'd worked with Gill in the past when she was a puppy and decided to book a course with Gill to see if she could help. After our initial assessment Gill felt her confidence could do with a top up as she sometimes felt a bit pressured. We met at various different places and I quickly realised, with Gill's gentle guidance, that I wasn't always watching and listening to what my dog was telling me with her body language. I was doing too much thinking that I knew what she was thinking (if that makes sense) rather than watching and understanding what she was actually telling me. I'm now much more aware of her behaviour when we are out and about and am able to recognise what she is communicating to me and what to do if a problem arises. Gill does real life dog training. She is very calm, patient and knowledgeable and I love her dog training ethos. It is more about building your relationship with your dog, enjoying time spent with them, letting them do dog stuff and learning their language. 'Be more dog' I think Gill would say.
Roger & Finley:
Excellent Knowledge Of Puppies/Adult Dogs. I contacted Gill in the hope she would assist me in training my new Puppy the basic skills of obedience. We initially had an introduction session for 1 1/2 hours so she could become familiar with my puppy and assess him. Talking to her she appeared to be very knowledgeable of dogs so I agreed to continue with Puppy training. I am very pleased with his training and the success we have achieved together I can now get him to respond to my commands. He was very quick to learn but with Gills help he is now ready to go onto Gun Dog Training. I would thoroughly recommend her, to have an obedient dog is both beneficial to you and your dog.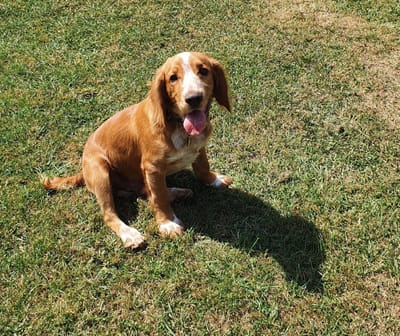 Jane Wayne & Rusty:
Valuable Insights Into Canine Behaviour We were nervous about raising a puppy for the first time in 27 years, so decided to book some sessions with Gill. She taught us how to read our puppy's body language, when to intervene and when to let him have time to assimilate a new experience. After a very few sessions, our pup was sitting and lying down on command and happily walking off the lead beside us. He comes when called and best of all, he does this cheerfully, thinking it is all a wonderful game. We feel much more confident in handling him now.
Jane & Rio:
Had our first training session on Sunday and what a difference in Rio already. Gill taught us as well as him on how to react to things around us and to watch him and let him tell us if he is nervous Looking forward to next week . Highly recommended.
Helen, Andy, Meggie & Baxter:
Gill is patient and encouraging. The sessions really help to build trust between dog and owner. We have learnt strategies to help with various behaviours in a positive way. Thoroughly recommend.
Julia, Flappy and Blue:
Reactive Dog Training I have attended two courses with my 2 reactive dogs. Gill is very positive and has helped me have to confidence to recognise signals from my dogs and act accordingly. I have even started walking them again! And Flappy has made a new friend on our walks!!! Thank you
Tony & Bertie:
Very good for new owners Gill is very good at showing how new owners can spot the behaviours in dogs and overcome them to the benefit of both. By showing owners and explaining what the dogs are doing and why, you get invaluable tips on how to control and enjoy the dogs without worry. Bertie has loved the sessions and so have I, and both dog and owner have come on in leaps and bounds!
Jo & Ashe:
Great opportunity for my dog to meet farm animals in a controlled setting. Will be booking into the next one.
Angela & Theo:
Back to Basic's is just what Theo and I needed. Theo was an easily distracted dog when out and now he is a pleasure to walk. Great environment for lessons. Thank you Gill for the training and advise
Dee & Lyla:
Great to be around farm animals and be up close to the lambs. Lyla didn't seem to be to bothered by them. Gill does take a slow and gentle approach so that dogs can process the environment they are in. Good afternoon. Thanks Gill.
Su & Usha:
Absolutely superb Had a fabulous first session with Gill. Usha had an absolutely brilliant time, she slept for hours after! Plenty of opportunities for her to learn, play and 'be' in a safe, controlled environment. We both learnt new skills ... and are already practising them at home. Gill explained everything really clearly which made everything so much easier to do! Thank you, really looking forward to the next session
Jo & Lottie:
Great Fun for Dogs We have been bringing Lottie our Jack Russell to Hoopers on Sunday mornings and she absolutely loves it. The trainers are brilliant and explain the exercises really clearly and make it fun for the dogs with plenty of opportunity to socialise too.
Claire, Ella & Minnie:
Hi Gill I hope you are ok and all your classes are going well. I just wanted to let you know how much I appreciated the classes you did for us and for all that you taught us – a big thank you! Ella and I did really enjoy the classes, especially the puppy socialisation ones. I feel they really helped Minnie get on with the other puppies and got her used to being around new dogs and experiences. I get lots of compliments about how well trained Minnie is, which makes me a very proud puppy mum! She is very obedient (on the whole!), sociable and keen to please. I do lots with her off the lead – she never goes far and comes back quickly if called. I believe that a lot of this is due to what you taught me and it gave me confidence with Minnie and her training. I love being out and about with her and she is now enjoying running off road with me, which is just great for us both! So a big thank you from all of us for your help and guidance (and a woof and a lick from Minnie!)
Hayley & Marble:
Hoopers We are on our second Hoopers course with Gill and really enjoying it. The lessons are lots of fun and our young dog Marble has become much more focussed and attentive. Would thoroughly recommend the sessions.
Karen & Roxie:
I initially met Gill when attending her Reactive Dog Classes as my Rottie could and was very reactive. Roxie and I learnt together in these classes, skills which would help me in helping her in situations she was not comfortable in. She is maturing into a very well mannered girl albeit can still have to odd moment but I am more aware of her body language. Thanks Gill :-) xx
Bill & Evie:
Having nearly always just done obedience, I feel we are more of a team moving around a Hoopers course together!
Mel & Daisy:
Really kind dog loving lady who helped me with my puppy. Hope lockdown ends soon for you Gill
Chloe:
Thank you Gill for fitting and supplying our working cocker spaniel with a perfect fit harness, we love it and it makes such a big difference. Gill was also very understanding and accepting of our slightly people shy dogs temperament - which is always helpful! Will definitely recommend you to others ⭐️⭐️⭐️⭐️⭐️
Karen, Izzy & Basil:
I would highly recommend Gill as a trainer. She has great knowledge of how to train even the most hectic terrier. Gills classes are fun and informative. Both me and my terrier love them.
Paula & Bruno:
Thank you for an enjoyable challenge Gill, lots of tips and great to hear how we can train our dogs with just a little time and patience .
Jayne & Tarn:
Thanks Gill enjoyed the week although I didn't manage 3x5 minutes every day it made me realise I should be doing more. Resolution to try a new skill every week. Thank you
Natalie & Lottie:
Lottie has made really good progress with the off switch training this week! We have got to a comfortable stage 3 so will start adding in the cue now as she starts to approach her bed 😊 thanks for all your efforts this week Gill Gallagher it's been great!
Rhiannon & Tyson:
Gill is fantastic, knowledgeable and patient, she had great ideas for any solution, her classes are great fun and she runs lots of distanced challenges that are really helpful. would highly recommend Gill
Sue & Storm:
Storm is our 5mth black Labrador, we have had her since 8weeks old, we are both retired & have had dogs all our lives, but not had a puppy for a very long time, & wanted to give her the best possible start, we decided to seek professional help in training her & that's where Gill came in. We booked for a 6 week 121 training session, we found Gill's training techniques very instructive not only for Storm but for us as well, Storm took to Gill as soon as she saw her, she was very patient with Storm and ourselves. Storm can now be let off her lead in a secure place, her recall has improved immensely & so has her lead walking. Storm has come a long way in 6 weeks & that is down to Gill's training. I thoroughly recommend her if you are looking to train your dog.
June, Jasper & Murphy:
Trying For My Boys Can't thank Gill enough for all the hard work she has put into training with my springer and Labrador Jasper and Murph. Top tips and hard working from everyone has turned my two manic dogs into great dogs. Still a small way to go to nail down a couple of issues but overall really happy with the time she has spent on them. It's been really challenging having two boys so close in age together but we have worked on this and would recommend without hesitation. thanks Gill x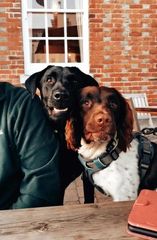 Jo & Luca:
Hoopers My Dog Luca and I really enjoyed doing Hoopers with Gill. She is a great trainer and Luca and I learnt so much from her during our Hoopers lessons. I would recommend Gill for the Hoopers and any other training required. She is very patient and passionate about what she does.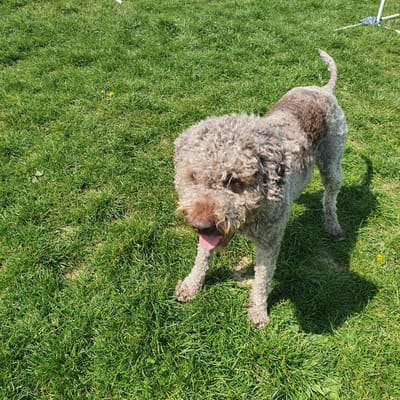 Rob & Arti:
Great Advice And Support ***** Gill provided myself and my 5 month old working cocker puppy with great advice and support around recall and being outside. She has a secure field with lots of distractions available and was willing to come to local parks to where we live too. Great value for money and Gill has given us the confidence to continue in our training ????, we would highly recommend! Thanks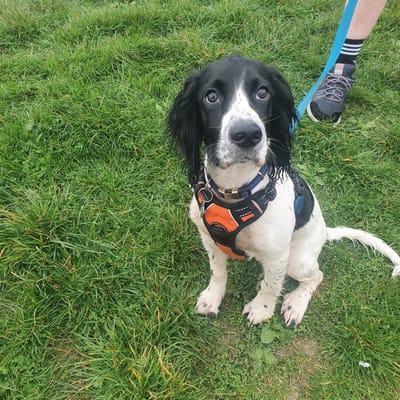 Helen & Woody:
Recall Training I used Gill to train our 2 year old Cavapoo to come back when called. Had 4 sessions with Gill and this has proved to be really useful . The training that I was given was just as good as what the dog had. This has given me more confidence in letting the dog off his lead now Highly recommend Gill
Cindy & Murphy:
Recall With Murphy I'm so happy I meet Gill to help me with Murphy's recall I can happily say it done miracles ????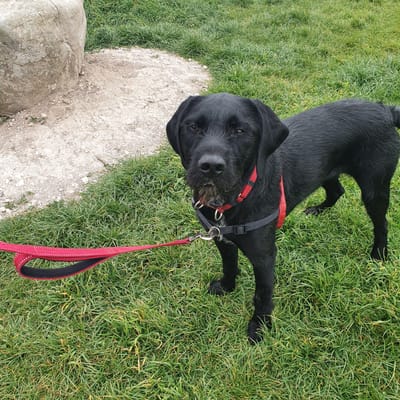 Carole & Twiggy:
A Good Start For Our Puppy Despite being dog owners it's been a long time since we last had a puppy and we felt that we needed some help. Gill has been great for guiding us down the right path to give our puppy a happy, confident and obedient start to life. Gill has been a great help in getting our puppy off to a good start in life.